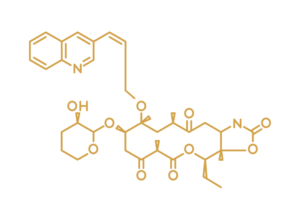 Cethromycin is a ketolide, with in vitro activity against a number of selected Gram-positive, Gram negative, atypical bacteria and protozoa. Ketolides are erythromycin A derivatives with a keto group replacing the cladinose sugar and an aryl alkyl group attached to the lactone macrocycle. Ketolides have extensive tissue distribution, favorable pharmacokinetics (oral, once-a-day) and useful anti inflammatory/immunomodulatory properties.
We have discovered a novel curative oral single dose antimalaria liver stage activity for Cethromycin. The research was supported by a phase I Grand Challenges Exploration award from the Bill and Melinda Gates Foundation, the Johns Hopkins Malaria Research Institute, The Bloomberg Family Foundation, an R21 grant from the National Institute of Allergies and Infectious Diseases and a phase I/II grant from the Maryland Innovation Initiative. Cethromycin is superior to azithromycin for liver-stage malaria, similar to azithromycin for curative blood-stage and lacks gametocyte-stage activity like azithromycin. The mechanism of action is well defined against the malaria plant-like, chloroplast-like organelle. Pharmacokinetic studies in mice confirm suitable liver drug levels for dormant malaria therapy.
The unmet medical need is a safe drug against dormant P. vivax or P. ovale, which infect 10 to 100 million people each year. Currently, the only drugs licensed to treat dormant malaria – primaquine, and the more recently approved tafenoquine, require a blood test for glucose-6 phosphate dehydrogenase deficiency to prevent a life threatening hemolytic event.
Cethromycin has been used safely in over 5,000 people in phase I-III clinical trials but was denied approval in 2011 based on lack of superiority over existing pneumonia drugs.
AQR has two patent applications in its IP portfolio – a use of PCT patent application to treat liver stage malaria (PCT/US2015/046665; Pub. No. US 2019/0091216 A1) and a salt formulation PCT patent application (PCT/US20/62882; Pub. No. US 2021/0163522 A1).
A composition of matter patent 6-O-SUBSTITUTED KETOLIDES HAVING ANTIBACTERIAL ACTIVITY was granted for cethromycin (US patent number 5 866 549) and it expired in September 2016. This patent for cethromycin, was owned by Abbott and licensed to Advanced Life Sciences. The Abbott patent only listed bacterial infection as an indication for treatment with cethromycin. Our freedom to operate analyses have not identified any other patents, patent applications or research studies by other groups concerning the development of cethromycin for liver stage malaria. At this time, to the best of our knowledge, AliquantumRx has freedom to operate in the use of cethromycin as a treatment for malaria (see Freedom to Operate Analysis Letters). JHTV filed a PCT application "Macrolide compounds and their use in liver-stage malaria and related disease". AQR obtained a license to develop Cethromycin for liver-stage malaria under all of JHTV IP rights in January 2019. The license is not exclusive as Gradient Pharmaceuticals who also worked on the discovery of Cethromycin for the use of cethromycin in the prevention or treatment of a Plasmodium infection in a subject retained their IP rights. To solve the worldwide exclusivity problem, AQR developed a novel salt formulation of Cethromycin and filed a PCT application "Salts and Polymorphs of Cethromycin for the Treatment of Disease". A formulation patent has the highest value to a potential partner because it is easier to enforce than a methods patent. A freedom to operate analysis by Global Patents Group (GPG) based in St. Louis verified the novelty of our salt and polymorph of cethromycin and did not find any IP that would prevent the company from commercializing Cethromycin.
Our intention is to nationalize worldwide the US, Canada, Europe (EPO), Japan, Australia, China, Israel, Singapore, South Africa and South Korea.
Additionally, we plan to file a future patent application on a slow-release formulation of cethromycin. The slow release formation will also expand our market opportunities.